Marketing attribution is the process of determining which marketing channels and courses of action are driving your conversions and sales.
Easier said than done? Exactly – marketing attribution requires a lot of knowledge, practice, time, and patience. If you lack any of those, which is a common growing pain of SaaS businesses of all sizes, a little help can be a lifesaver.
Let's check out some of the best SaaS marketing attribution tools to put your business on the right track. We considered companies of all sizes, needs, and approaches in this selection.
Dreamdata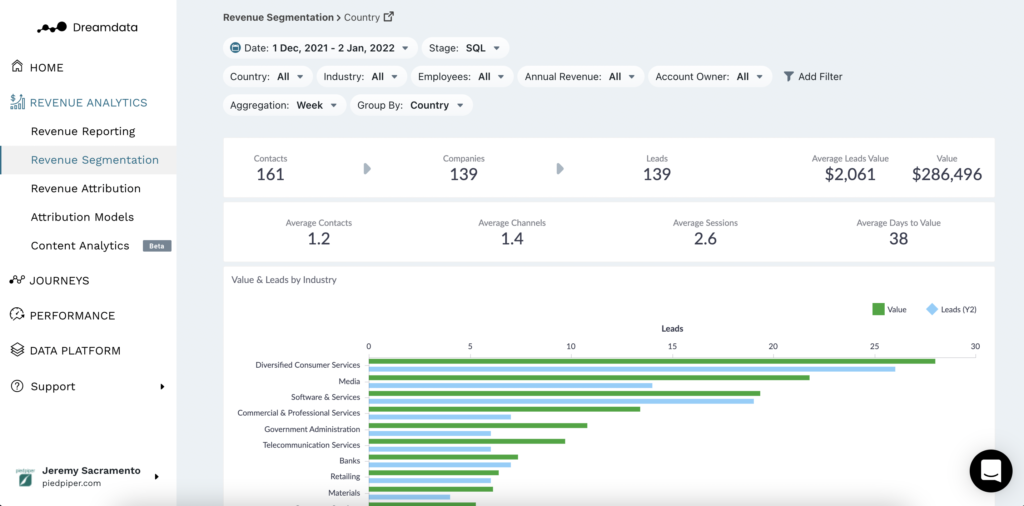 Dreamdata is a marketing attribution platform tailored for businesses seeking to fine-tune and scale their marketing strategy. It helps SaaS companies to collect, filter, and analyze relevant data about their most successful revenue channels and drivers.
Dream data also allows you to understand attribution and the lifetime value of ads, measure content ROI, and scale your marketing efforts most efficiently.
Key features
Dreamdata's key features include:
Attribution Modeling
Conversion Tracking
Cross Channel Attribution
Customer Journey Mapping
Demand Forecasting
Modeling & Simulation
Multi-Channel Attribution
Multi-Touch Attribution
Review scores
Dreamdata holds an admirable 4.9 score from 38 reviews on Capterra. Its users are pleased with its account-level view, well-customized demo, and excellent customer support.
However, some businesses had issues with Dreamdata's robust platform and felt lost among numerous options and features. 
Pricing
Dreamdata's pricing model is usage-based. It offers both a free trial and a free version for budding SaaS businesses with up to 5,000 app/website visitors a month.
They tailored their Team pricing plan for B2B businesses requiring more advanced marketing attribution, costing $749 per month, charged annually. For companies with complex and particular needs, Dreamdata offers a customized plan – the price is available on quote. 
Strong points
If you have a budding business and you're on a budget, Dreamdata packs enough power in its free plan to ease you into marketing attribution hacks – provided you have some technical support in your team. It's a powerful and ambitious tool with an extensive palette of features, so it requires you to have some knowledge and practice in marketing beforehand to make the best of it.
Verdict: Dreamdata best fits SaaS businesses with long sales cycles and teams of 50-500 employees.
InnerTrends
InnerTrends is a tool aimed at product-centered companies, allowing SaaS businesses to gather product usage insights, analyze them, and optimize their software quickly and efficiently based on set goals. It follows your customers' journey from acquisition and activation to retention and referral.
Key features
InnerTrends' key features include:
Cohort Analysis
Conversion Tracking
Customer Journey Mapping
Customer Segmentation
Engagement Tracking
Funnel Analysis
Interactive Reports
Usage Tracking/Analytics
Review scores
InnerTrends has gained a 4.9 rating from 11 reviewers on Capterra, who describe this tool as a way to "turn chaos into clear product direction."
Apart from helping SaaS businesses identify valuable data points and collect data, the InnerTrends team also validates all data, ensuring everything is 100% accurate. However, some reviewers warned that this marketing attribution software requires time and pre-defined goals to set up and use efficiently.  
Pricing
InnerTrends offers four pricing plans, including a free and 14-day free trial. The free plan provides essential customer journey metrics, while Startup ($79/month), Growth ($299/month), and Scale (available on quote) are tailored for products with more than 100 active accounts. 
Strong points
InnerTrends is a budget-friendly, straight-to-the-point, efficient marketing attribution solution for startups and small to mid-size businesses oriented towards product development and fine-tuning their onboarding. Verdict: This is a good fit if your SaaS company is in for simplicity and a product-oriented tool. 
Infinigrow
InfiniGrow is a planning and analytics platform created for marketing teams seeking to allocate their budget efficiently across multiple marketing channels, providing data-driven recommendations.  
Key features
InfiniGrow's key features include: 
Attribution Modeling
Budgeting/Forecasting
Collaboration Tools
Conversion Tracking
Cross Channel Attribution
Customer Journey Mapping
Goal Setting / Tracking
Marketing Calendar
Media Planning
Multi-Channel Attribution
Multi-Touch Attribution
Predictive Analytics
ROI Tracking
Spend Management
Review scores
InfiniGrow holds a 4.9-star rating from 12 reviews on G2. Users are satisfied with this attribution tool's performance, hailing it as the source of refreshing transformation in their companies – from "usual marketing mumbo-jumbo" to a revenue-driven marketing team.
Some users had issues with bugs, stability, and lack of dashboard customization but pointed out that customer support had been responsive and helpful.
Pricing
InfiniGrow offers three pricing plans – Startup ($1500/month), Growth ($2000/month), and Premium (available on quote), paid annually. There is no free version, nor free trial available.
Strong points
InfiniGrow is a good choice for marketers and B2B and SaaS businesses with in-house marketing teams. However, its high pricing point could be too much for startups and developing businesses.
Verdict: a good choice for well-established, marketing results-oriented teams and enterprises.
Metabase
Metabase is an open-source business intelligence solution that enables you to gather and analyze data to modify KPIs and monitor your marketing goals.
Key features
Metabase's key features include:
Dashboard
Key Performance Indicators
Visual Analytics
Connection to 20+ datasources
Self- or cloud-hosted options
Review score
Metabase holds a 4.6 rating on Capterra based on 27 reviews. Its users are satisfied with its data aggregation and reliability, while some had issues with difficulty of use and the lack of support for code-versioning.
Pricing
There are six plans overall. Three plans available on Cloud are Starter ($85/month), Pro ($500/month), and Enterprise (available on quote). If you manage it yourself, you can use open-source Metabase for free or upgrade to Pro ($500/month) and Enterprise (available on quote).
Strong points
Metabase is a good marketing attribution choice for businesses of all sizes seeking to fine-tune their KPI monitoring and product development. It offers a lot of flexibility thanks to its cloud and open-source availability. Verdict: if you know your KPI goals and have solid coding skills, Metabase is the perfect choice for you.
Hyros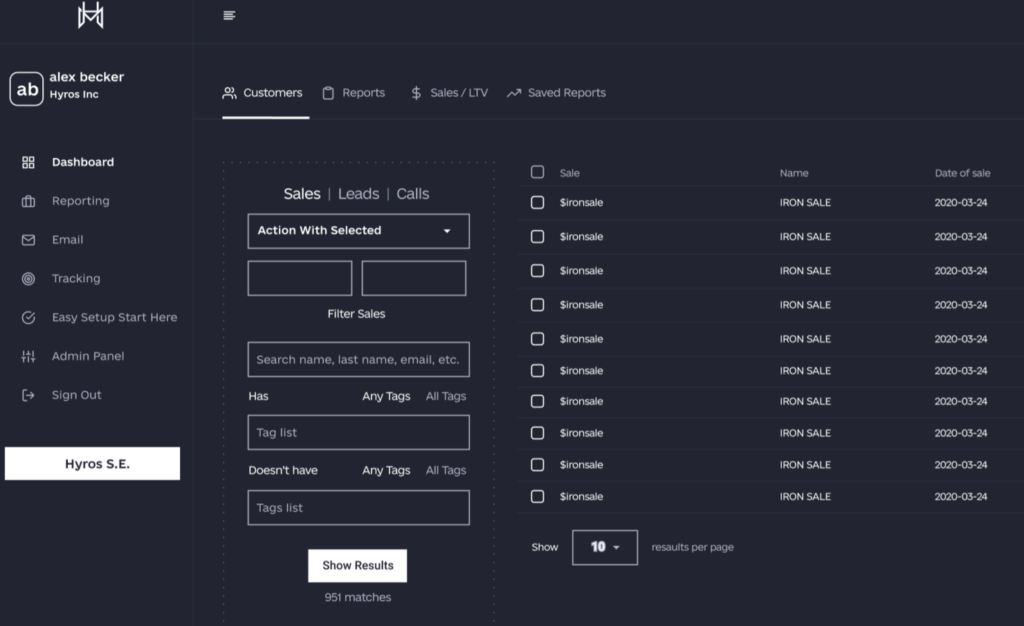 With the motto "Track ads. Feed AI," Hyros touts itself as a no-nonsense marketing attribution tool aimed at SaaS businesses and marketers who want to understand their sales data and make profitable decisions.
Their team promises to revolutionize your digital marketing strategy by making it – simple.
Key features
Hyros' key features include:
Ad attribution
Email tracking
Call tracking
Long term value calculation
Review scores
Hyros is a wild card on our list and, so far, hasn't generated any feedback on established review sites like Capterra or G2. Individual users' reviews gave Hyros 4.5/5 stars, praising its user-friendly dashboard, design, and no-nonsense approach.
However, it is also criticized due to the lack of transparency in pricing models and the selective choice of clients they work with.
Pricing
Pricing and customizable plans are available on quote.
Strong points
Hyros makes bold promises to its prospective clients – its approach is results-oriented, with a 90-day satisfaction guarantee.
Verdict: if you're looking to experiment and find the right fit for your marketing attribution strategy, Hyros could be your right choice.
Singular
Singular is a marketing attribution tool touting itself as a "simple, holistic solution for better optimization and faster growth." It is aimed at marketers who want to track and analyze their data across the sales cycle and multiple marketing channels, allowing them to explore ROI with combined attribution and cost aggregation.
Key features
Singular's key features include:
AB Testing
Access Controls/Permissions
Account Alerts
Activity Dashboard
Activity Monitoring
API
Attribution Modeling
Audience Targeting
Campaign Analytics
Campaign Management
Cohort Analysis
Conversion Tracking
Cross Channel Attribution
Customer Journey Mapping
Customer Segmentation
Review scores
On Capterra, Singular has a 4.6/5 rating from 22 reviews. Users were happy with its performance in optimizing ad campaigns and networks, good customer support, and numerous features. Some users had issues with data delays and the lack of user interface flexibility.
Pricing
Singular offers five plans as part of two packages. Its analytics package includes Standard, Premium, and Enterprise plans, while the analytics and attribution package offers Premium and Enterprise plans.
Prices for all plans are available on a quote, while the Standard analytics plan is free for 30 days. Paid plans also offer free trials.
Strong points
Singular boasts working with "50% of the top 100 grossing apps," including LinkedIn, Rovio, Lyft, Warby Parker, and Twitter marketing teams. It is a robust marketing-oriented attribution software offering clear direction in scaling your growth and fine-tuning your marketing strategy.
Verdict: a good solution for SaaS businesses with savvy marketers and in-house marketing teams.
Outfunnel
Outfunnel is a marketing attribution software designed to help you connect sales and marketing tools by keeping customer data in sync across multiple engagement channels. It offers integrations with popular marketing platforms such as Salesforce, Pipedrive, Airtable, Copper, and HubSpot CRM, with the list of new partners growing monthly.
Key features
Outfunnel's key features include:
Multiple Data Sources
Web Services
App connector
Email marketing
Web tracking
Lead scoring
Review score
Outfunnel is rated 4.9/5 stars on Capterra, with 39 reviews so far. Users praised the software, helpful customer support, and overall results they achieved using Outfunnel. Some of the issues included more minor bugs and missing features that have been rolled out eventually.
Pricing
Outfunnel offers four pricing plans – Lite ($6/month), Starter ($19/month), Growth ($49/month), and Enterprise (available on quote), with a 14-day free trial (no credit card required) for all of them. 
Strong points
Outfunnel is an ideal solution for small and medium businesses. It packs enough features for in-depth marketing attribution yet offers enough simplicity to transform analytics into actionable recommendations.
On top of that, it's budget-friendly! Verdict: a smart choice for budding businesses looking to develop their marketing strategy.
***
Do you feel that using these tools would still be way too overwhelming? In need of some assistance with marketing attribution and putting your business out there? 
Book a call with us – we can work on your goals together!