What is the Marketing Automation 🤔

Let's keep this very short – marketing automation is not just email automation it's automation of the complete processes across the customer journey (in most cases communication happens via email)
Why Your SaaS need Marketing Automation
reduce manual efforts
speed up your processes, but it can't fix a broken process as well
cross-selling and upselling campaigns
scalability in sales seasons

How Marketing Automation Will Help You In Scaling Your Saas

Marketing automation can help you in covering many segments of the customer acquisition journey. From email campaigns, customer in-app messaging to the surveys, and integrations with other relevant tools.
Long story-short!
Let's jump on our list of 5 Best Marketing Automation Tools for SaaS businesses.
Look closely at our selected list and choose the best tool for you 📧 🚀
Encharge
Send targeted emails based on what users do in your software.
Convert more users to paying customers.

Personally our favorite marketing automation tool. Because of built-in native integrations with Stripe, Intercom, HubSpot and other favorite apps on the market Encharge enables you to create powerful cross-channel automation flows.
Encharge enables you to send emails based on what people do in your product and automate your marketing process across the user journey.
Really powerful right? So let's dive deeper into the Encharge key features:
Key features
Powerful flow builder
Customer Segments
Flow Templates
Email Editor
Strong points
Direct integrations with the most popular marketing tools (Intercom, Stripe, Segment, Typeform, Unbounce)
Short learning curve
Sync customer data with marketing data
Affordable pricing
Designed specifically for SaaS businesses
What's Unique about Encharge

Encharge provides native integrations with Stripe, Intercom, Typeform, Hubspot and other favorite tools. With these integrations
Pricing
Pricing starts from $49 / mo per user for 0 – 2,000 subscribers
Customer review score
82% out of 100% – saasworthy
User.com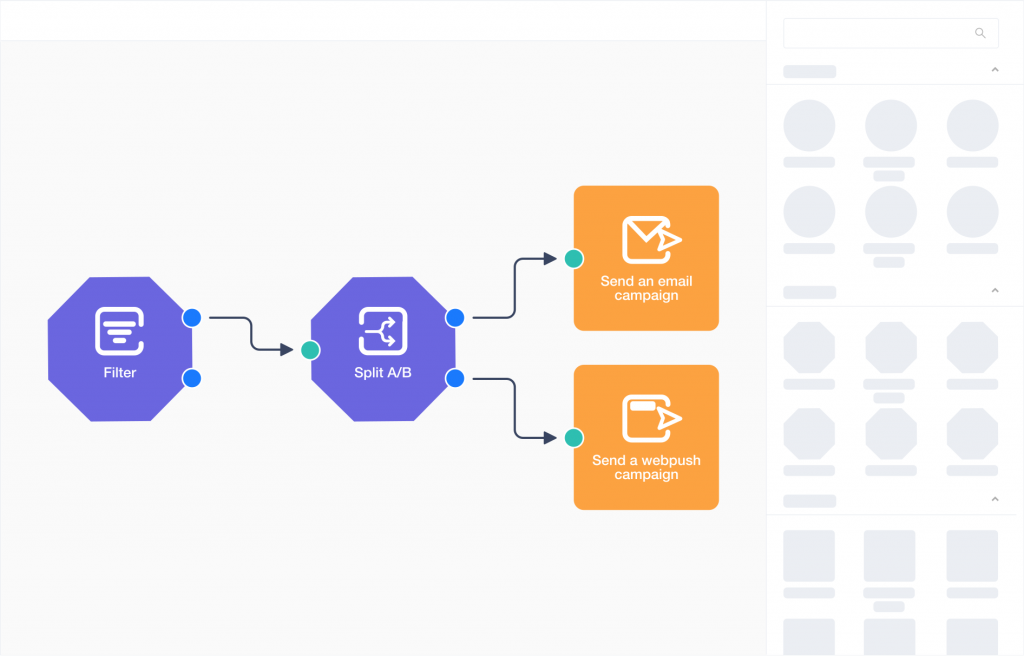 User.com declares itself as an "all-in-one Marketing & Sales Automation software"
This tool really makes it easier for everyone to reach out to customers and potential users through a wide range of communication channels: email, live chat, chatbot, push notifications, dynamic page content.
What we like about the User dot com is that they really connect all communications in one place from automating various sales and marketing processes to the end-to-end experience.
Key features
Visitors tracking
Live chat & Chatbots
Knowledge base builder
App push notifications
In-app and email automation
Analytics dashboard
Strong points
Well developed API
Built-in integrations
Template library with automation examples
University with 60 videos
Pricing
Free version is available, regular pricing starts from $49/mo
Customer review score
4.7/5 (Capterra)
Userlist.com

Userlist allows you to create behavioral-based in-app messages and email sequences to nurture and engage your customers. This tool will also help you out to improve user onboarding with detailed customer segmentation.
There's plenty of powerful features listed below.
Key features
User onboarding tool
Customer segmentation
In-app messaging & onboarding
Behavior-based email automation
One off announcements
Visual automation builder
Strong points
Advanced customer segmentation
Company podcast
A/B testing options
Focused on SaaS only
Pricing
Starting from $99 / month for up to 5,000 users
Customer review score
5.5/5 (Capterra)
Customer.io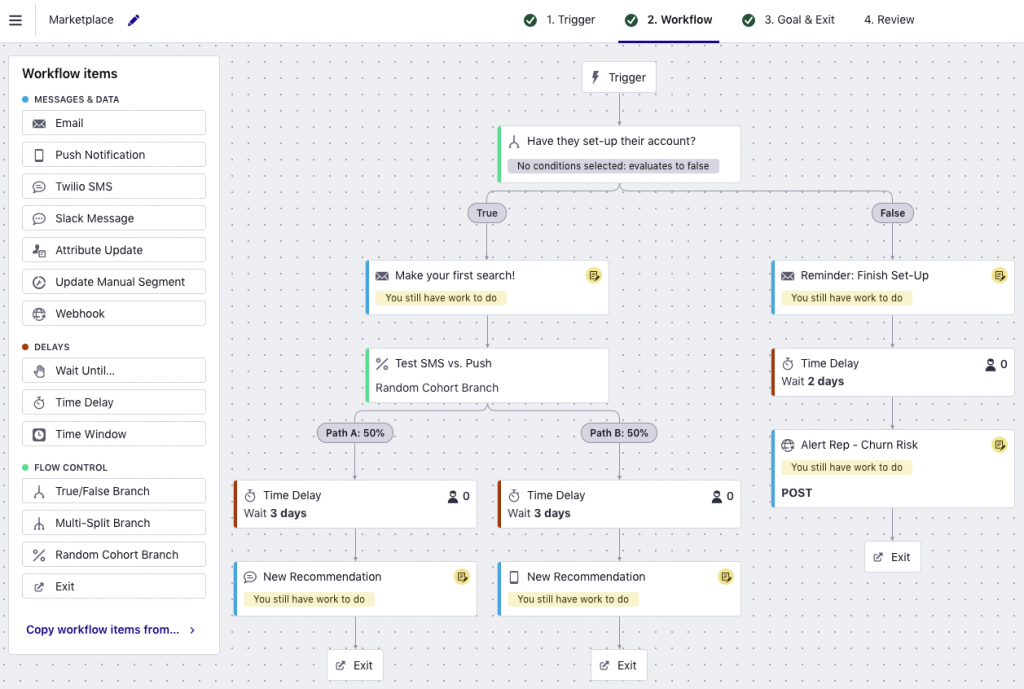 We l.o.v.e Customer.io because it is so easy to use and it's really one of our favorite marketing automation tools. Managing the tool requires tech savviness but almost no developer efforts at all. Building automated email campaigns is very easy.

Key features
Workflow Automation
Drip Campaigns
A/B Testing
Event Triggered Emails
Dynamic Content
Turn Segments into Ad Audiences
Metrics and Optimization
Ad Audience Sync
Strong points
Flexible Data Integrations
Comprehensive Email Segmentation
Open API
Reporting/Analytics
Pricing
Pricing starts from $150 /mo/per user for unlimited emails, SMS, Push, Webhook
Customer review score
4.6/5 (Capterra)
Intercom
So, what exactly is Intercom?
Intercom is a Conversational Relationship Platform (CRP). It will help you to build more personalized customer relationships, and by building relationships you will build trust and gain a lifetime customer.
Intercom is like email on steroids with many useful options that will spare your time. Checklist of all the functions is pretty big and the best way is to see for yourself, especially because you'll have a free trial.
Key features
Behavior triggered messages
User event tracking
Email campaign creation
In-app message/email composer
Inbound email address
Message tagging
Personalized reply templates
Team assigning
Team inbox
Strong points
Quickly resolve complex issues one-on-one
Answer repetitive questions automatically
Get ahead of known problems before customers reach out
Pricing
Pricing starts from $49 /mo/per user for 2.000 contacts (startups plan)
Customer review score: 4.6/5 (Capterra)
Free Trial: YES
Last but not least
All of these 5 tools are tested by our team, in our projects, and our client's projects. I would say they are certified by us and they all have passed with flying color. So, don't look further, grab some of these automation tools and skyrocket your business!

Also, you can always give us a call so we can help with onboarding and setting up everything.